Written By
Penelope Graham
Alarms that Canadians are struggling to keep up with their mortgage debt have been sounding louder in recent months.
Concern has been raised around the number of variable-rate borrowers approaching their trigger rate, the instance when their monthly payments no longer contribute to their principal, and cover interest only. Should their rate rise further, the borrower is then required to either increase their monthly mortgage payment, make a lump sum, or extend the amortization on their mortgage.
This growing risk was acknowledged directly by the Bank of Canada this week, as Deputy Governor Carolyn Rogers indicated debt servicing requirements will only tighten further for Canadians in the near future.
"One group of Canadians who will be finding this adjustment painful are those who recently purchased a home, potentially stretching their budget to do so, and who chose a variable-rate mortgage," she stated in a speech on November 22 to the Young Canadians in Finance in Ottawa.
"This is not a large share of households, but it is larger than it would have been based on historical trends. This is because more Canadians opted for a variable-rate mortgage over the last year than have in the past, at a time when housing prices were high."
Borrowers who have variable monthly payments — meaning they move in tandem the BoC's hiking trends — will have already seen a "significant increase", while an increased number of variable borrowers with fixed monthly payments are facing their trigger rates.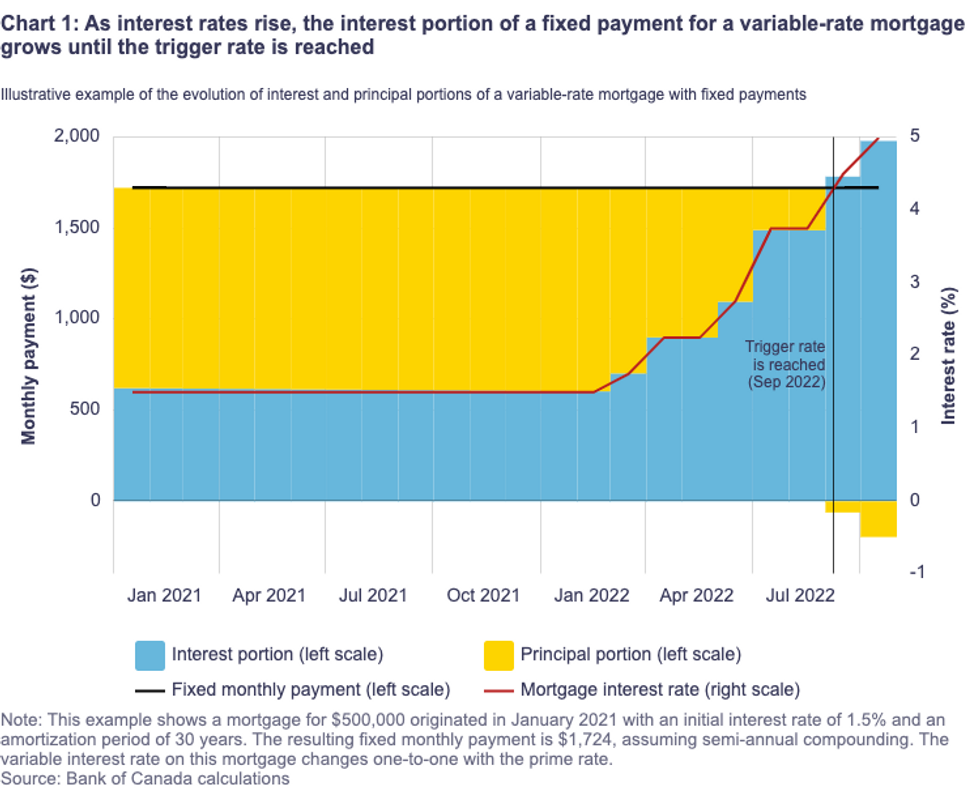 Those with fixed-rate mortgages are also staring down the barrel of higher rates at renewal time, depending on when they took out their mortgage, and whether they have the flexibility to extend their amortization period, Rogers added. Slowing real estate prices — which the Bank has deemed necessary to reign in inflation — is also putting pressure on those who recently purchased.
"They will have reduced equity, and this may limit their options to refinance," she said.
READ: Rising Number of Homeowners Option for Short-Term Fixed Mortgages
Additional Bank of Canada analysis finds that 50% of those with a variable-rate, fixed-payment mortgage — accounting for 13% of all Canadian mortgages — have already reached their trigger rate since the Bank kicked off its hiking cycle in March. This is set to rise as consumer lenders increase their Prime rates further this year and next, given market expectations the BoC will hike by another 50 basis points by mid-2023.
"In this case, an additional 15% of variable-rate mortgages with fixed payments could reach their trigger rate, with the total thereby reaching 65% (or around 17% of all mortgages)," reads the report.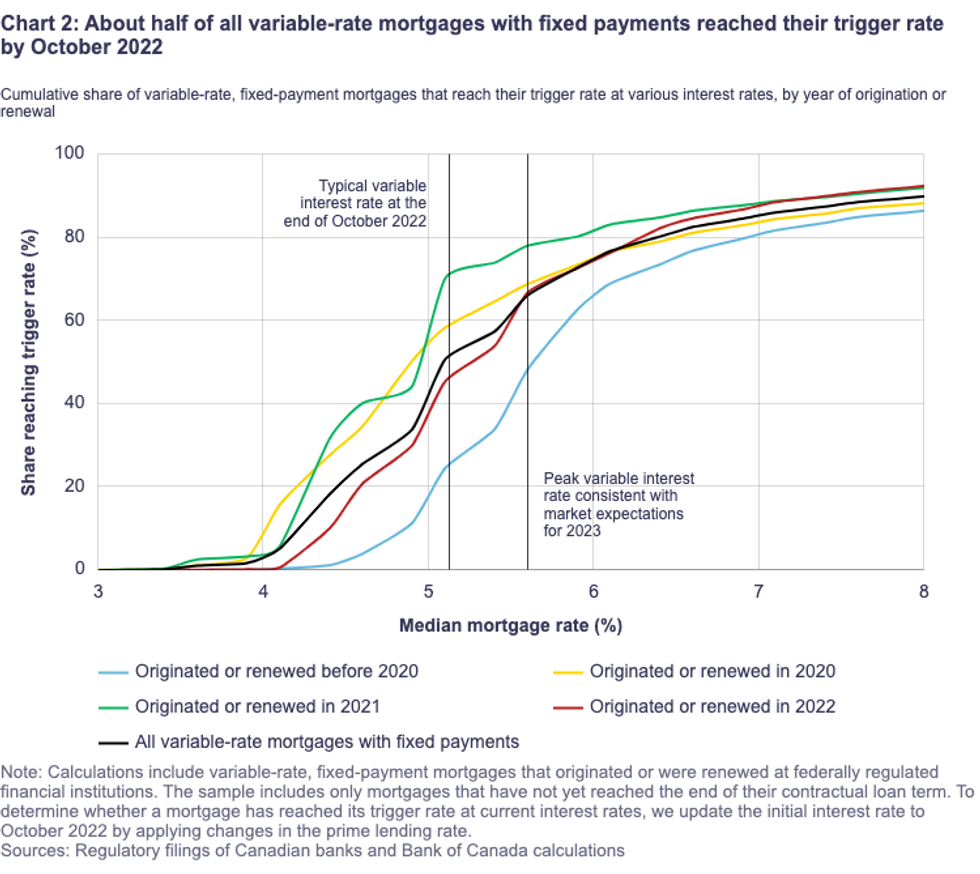 "For some households, this payment increase may be unexpected."
The Bank calculates that for those who have already hit their trigger rate, the median payment increase is about 5%. Meanwhile, households that took out mortgages with longer amortization periods when rates were at record lows are at most risk for increasing payments.
"The amount by which the required payments need to increase in the future, as well as the share of affected mortgages, will depend on the level at which mortgage rates peak," writes the Bank.
Written By
Penelope Graham
Penelope Graham is the Managing Editor of STOREYS. She has over a decade of experience covering real estate, mortgage, and personal finance topics. Her commentary on the housing market is frequently featured on both national and local media outlets including BNN Bloomberg, CBC, The Toronto Star, National Post, and The Globe and Mail.
More From Author