The housing market in France is showing signs of slowing down after booming for the past five years, with rising interest rates and tighter lending standards reducing sales demand. 
The growth in prices for second-hand properties slowed during the second quarter, while real estate developers reported a sharp deterioration in demand for new housing in October, according to data from France's National Institute of Statistics and Economic Studies.
What is the outlook for France's housing market? Is there a possibility that the market will crash in the future?
Read on to learn more. 
What is a housing market crash?
In property markets, prices tend to rise and fall in cycles. Bubbles form when average property prices rise past their fundamental value, which can result in a cooling of the market, or even a crash if prices fall rapidly, bursting the bubble.
Property market bubbles can be caused by excess demand, encouraged by government policies such as low interest rates or excessive lending. When economic conditions change and mortgages become unaffordable, property owners can be forced to sell, increasing supply on the market and reducing demand.
France's real estate market experienced a decade-long boom from 1997 until the 2007 global property crash, with prices soaring by 150% during the period. France's housing bubble ended in 2008 when the market saw moderate price falls. House prices fell by an annual average rate of 1.7% from 2012-2015, and then began to rise in 2016.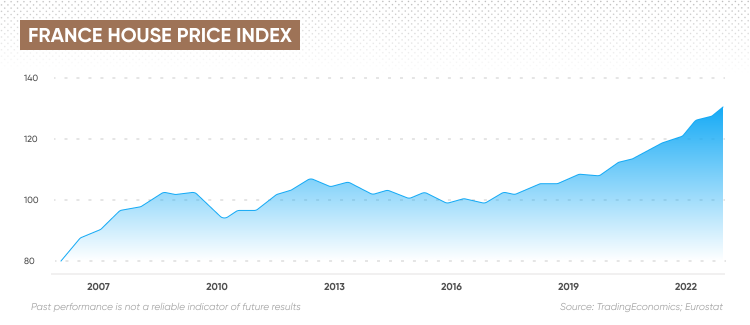 Mortgages in France are primarily based on fixed-rate financing, which contributes to the market stability and reduces the likelihood of a France house price crash. The market is less prone to sharp price rallies and crashes than other countries, where variable mortgage rates result in instability.
What is your sentiment on EUR/USD?
Vote to see Traders sentiment!
Will there be a France house price crash? 
As in other countries, in France, housing market prices spiked during the Covid-19 pandemic. The house price index of new and old properties published by France's Institut National de la Statistique et des etudes economiques (Insee) climbed from 112.7 in the fourth quarter of 2019 to 119.30 in the fourth quarter of 2020, its fastest pace of growth since 2010, and has continued to rise to 127.5 in the fourth quarter of 2021 and 130.8 in the second quarter of this year.
What is causing the slowdown in French house price growth?
Prices in the metropolitan France housing market continued to increase during the second quarter, rising by 1.5% from the first quarter, when they increased by 1.4%, according to Insee data. Prices for new properties increased by 3.2% after a 0.1% rise in the first quarter, whereas prices for second-hand properties were up by 1.3% after a +1.7% rise in the previous quarter. 
On an annual basis, prices increased by 6.7% from the second quarter of 2021, after a 7% year-on-year rise in the previous quarter. Prices for older properties rose by 6.8% year on year, while new house prices rose by 6.3%.
Prime house prices in France saw record growth of around 6% in 2021, and residential sales were 31% above the 10-year average, according to UK-based real estate agent Knight Frank. According to the analysis: "The pandemic has seen French buyers re-evaluate their housing requirements and working practices, in many cases relocating, upgrading, or acquiring that long-yearned for a second home.
"In 2021, when borders reopened, they were joined by pandemic weary overseas buyers, for whom the French lifestyle resonated even more strongly".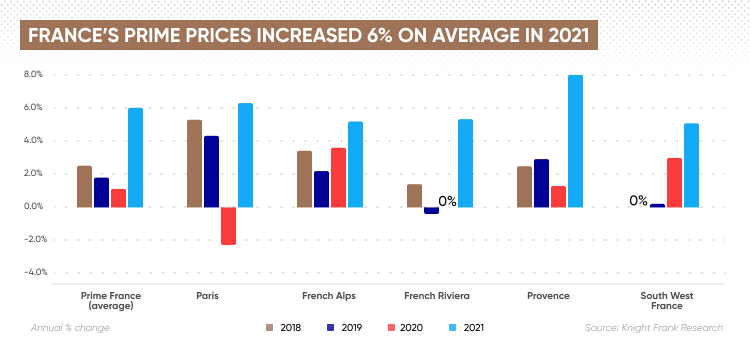 The firm noted that with the impact of rising interest rates around the world on currency markets, overseas buyers with stronger currencies against the euro (EUR) have the opportunity to buy in France's property market at lower prices. The fall in the euro to below parity with the US dollar (USD) this year has made French properties particularly attractive to buyers from the US and countries with currencies pegged to the US dollar. 
"US buyers currently enjoy a 16% price discount compared to a year ago due to currency shifts, which explains why US searches for French property on Knight Frank's website were up 37% in May 2022 on an annual basis," Knight Frank stated in July.
But the rise in prime real estate prices slowed to 3% in the first half of 2022. French property news from Knight Frank in October showed that France, along with Canada, New Zealand and the US, saw the largest drop in sales over the previous 12 months as rising mortgage rates fed into the domestic market. French transactions fell 13% year on year and 7.5% over the previous three months, the data showed.
Regions popular for second homes and holidays are expected to be more vulnerable than cities to the global housing market downturn, as was the case in 2008. Property markets in cities are expected to show more resilience on supply issues and stronger labour markets. Sales in Paris, London and New York have so far held up, with sales in Paris up by 23.6% over the previous 12 months and 19.1% over the previous three months. 
Prices for prime real estate in Paris remain attractive for overseas buyers as they are lower per square metre than many other capital cities. Private equity firms are increasing their exposure to the Parisian residential market as a store of value and hedge against global economic uncertainty.
French housing market outlook
"Sales activity is expected to be healthy but more muted in 2022, with a marginal slowdown in sales having been noted in the first half of the year. The Russia-Ukraine conflict has heightened uncertainty and will impact buyer sentiment given the backdrop of sharply rising inflation and tighter financing conditions," Knight Frank stated earlier in the year.
At the time of writing (23 November), economic data provider Trading Economics predicted that the French housing index will slip lower to 130 at the end of the year, from 130.78 in the third quarter, but then rebound to 136 points in 2023, based on its econometric models.
French banking group BPCE expects "a significant contraction in household real estate transactions, with a 5% decline in transactions in the existing housing sector in 2022 and a 9% decline in 2023, exacerbated by a reduction in new construction starts in 2023 owing to the difficult implementation of the constraints imposed by the RE2020 regulations related to disruptions in supplies, cost increases, and growing difficulties in obtaining building permits in urban areas.
"Prices, traditionally more resistant to change than volumes, are expected to cool off in 2022 (+4%), continuing to benefit, however, from the momentum built up in 2021 and from the 'catching-up phenomenon' affecting properties in medium-sized cities and single-family homes in the provinces after a 2010/2020 decade of stagnation for real estate of this type."
BPCE predicted prices could decline next year, noting: "…the combined effect of rising interest rates, declining household purchasing power, and the implementation of energy regulations should lead to a decline in average prices of around 3% in 2023. 
"Indeed, the increase in interest rates raises the question of price levels above and beyond changes in trends, and the preservation of household solvency as a whole."
The bottom line
Ultimately, whether there is another France house price crash could depend on the extent of the economic downturn and the impact of inflation, interest rates and currency exchange on buyers. As BPCE noted in July: "The middle classes increasingly share the pessimistic view of people in the lower income brackets suggests that people will take a longer and harder look before taking the plunge, or even decide to postpone their real estate projects outright."
The inflationary shock, rising interest rates and the implementation of energy regulations in France could be "leading to a lasting change in the market".
If you are looking at French house price forecasts to help inform your investing or trading decisions, we recommend that you look at the latest market trends, news, technical and fundamental analysis, and expert opinion before making any investment decision. Keep in mind that past performance is no guarantee of future returns. And never invest money you cannot afford to lose.
FAQs
Does France have a housing crisis?

France is not immune to the global shortage in affordable housing, following an extended period of house price rises.
Is there a housing bubble in France?

France saw record growth in real estate transactions in 2021. Residential transactions were 31% higher than the 10-year average, according to Knight Frank, but the rate of price increase has started to decline in 2022.
Is now a good time to buy a property in France?

At the time of writing, a number of analysts suggested there was potential for house prices to fall in France in 2023, with rising interest rates and inflation weighing on demand. However, you should keep in mind that analysts' forecasts can be wrong. Always do your own research.

We recommend that you look at the latest market trends, news, technical and fundamental analysis, and expert opinion before making any investment decision. Keep in mind that past performance is no guarantee of future returns. And never invest money you cannot afford to lose.
Related reading